You want your jewelry to make a statement when you wear a navy blue dress. You can go for a more dramatic look with chandelier earrings and a bracelet, or keep it simple with a necklace and stud earrings. If you want sparkle to your outfit, try wearing a pair of diamond earrings or a gold necklace. Whatever style you choose, make sure your jewelry complements your navy blue dress and makes you look and feel stunning.
The right jewelry can make a navy blue dress stand out
A navy blue dress is the perfect wardrobe staple – it's versatile, flattering, and easy to dress up or down. But what many women don't realize is that the right jewelry can make a navy blue dress stand out. Here are some tips on how to accessorize a navy blue dress to look stunning:
Choose jewelry in complementary colors. Gold looks great with navy, as does silver. You could also go for a bolder look with jewel-toned accessories.
Consider your overall style. Classic pieces like pearl earrings or a diamond necklace will be ideal if you tend to dress conservatively. If you're more fashion-forward, try something trendier, like an edgy cuff bracelet or statement earrings.
Think about the occasion. For a casual daytime look, keep your jewelry simple and subdued.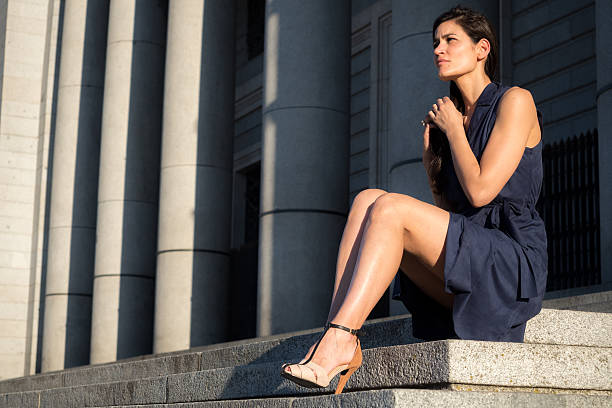 Gold or silver?
When accessing a navy blue dress, the best bet is to stick with gold or silver jewelry. Navy blue is a versatile color worn with either metal, and both look equally stunning. If you're undecided, go with gold—it tends to be a bit more formal than silver and will dress up your look accordingly. Just be sure to avoid mix-matching metals, as this can look tacky. Instead, pick one metal and stick with it throughout your accessories.
Statement pieces
A statement piece is a piece of jewelry that makes a bold visual impact. When choosing a statement piece to wear with a navy blue dress, you must consider the overall look you are trying to achieve. A chunky necklace or big, sparkly earrings can add some extra pizzazz to an otherwise simple outfit. If you want a more understated look, try pairing your dress with a delicate gold bracelet or pearl earrings. No matter your style, make sure your statement piece complements your navy blue dress and completes your overall look.
Understated elegance
Navy blue is a classic color found in many women's wardrobes. It is versatile and flattering and can be dressed up or down depending on the occasion. When it comes to jewelry, navy blue begs for understated elegance. A pair of simple diamond stud earrings or a delicate pendant necklace is all you need to take your look from day to night. Try layering several thin gold chains or wearing a pretty charm bracelet for a more casual daytime look. No matter how you accessorize, remember to keep it simple and let your navy blue dress take center stage.